Headteacher's Letter
For full, detailed information see this letter… and this document… which were sent out by post on 20th August. In addition to this information, the government has produced this leaflet… .
When does school start for my child?
Year 8, 11, 12 and 13 begin on Wednesday 2nd September at 8.50am.
Year 9 and 10 begin on Friday 4th September at 8.50am.
NB: Year 8, 11, 12 and 13 have a regular school day on Thursday 5th September.
Where does my child go at the start of his/her first day?
Year 8 should go to the Sports Hall with their basic equipment (see pdf at top of page). New Year 8s are encouraged to watch this video for directions to the Sports Hall and a welcome from senior staff.
Years 9, 10, 11, 12 and 13 should go to their tutor room with their basic equipment. List of tutor rooms…
Year 11 have been put into new tutor groups. More information…
Has the school day changed?
Yes (see documents above). Students will get a timetable during the first tutor time with lesson timings on. The most important thing is that tutor time has moved to the end of the day and the end of the day is as follows:
Students not on buses
Students using buses
Year 8
2.55pm
3.00pm
Year 9
2.50pm
3.00pm
Year 10 Week A
Year 10 Week B
2.50pm
2.55pm
3.00pm
3.00pm
Year 11 Week A
Year 11 Week B
2.55pm
2.50pm
3.00pm
3.00pm
Years 12 and 13
As individually arranged with tutors
As individually arranged with tutors
The following arrangements are in place on school buses. Students must sit in their colour coded zone as follows:
Year 8 – Red
Year 9 – Blue
Year 10 – Green
Year 11 – Orange
Year 12 – Purple
Year 13 – Yellow
Year 8 Video
Tutor Group Rooms
We are coming back on a week A.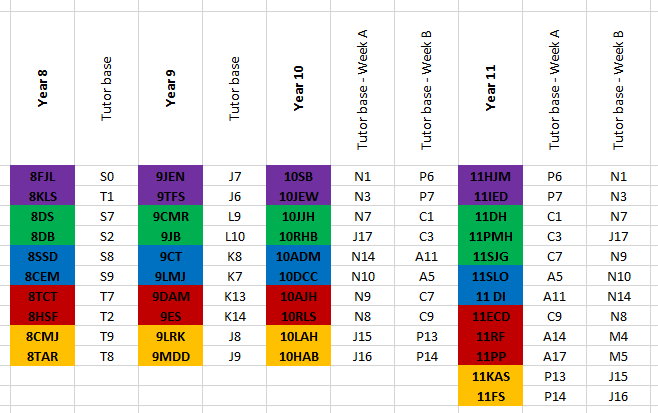 Year 11 Tutor Groups
As usual, we have created new tutor groups for Year 11. Year 11 students have been sent an email with a list of the group in it. Check your school email… from Thursday 27th August.