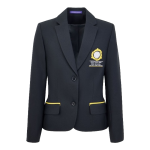 Our school blazers are only available online from School Colours Direct.
In 2022 we completed an exercise with various suppliers and found that moving to School Colours Direct gave families better value overall.
Blazers can be sent to your home or, if preferred, families can avoid a delivery charge by having the blazer delivered to school. School Delivery Orders can take up to two weeks to be delivered. School Delivery Orders need to be placed online by 10.00am Wednesday of the week before delivery (our delivery days are the 1st and 3rd Fridays of each month).
We have a full sizing set in our reception for students to try and on and work out the most appropriate size to give you confidence when ordering.
For any enquiries about your uniform order, please go to 'Contact Us' on the School Colours Direct web shop or email enquiries@schoolcoloursdirect.co.uk (please put 'Droitwich Spa High School,' the name on the order and the order number in the email.
Also, please don't forget that we have a pre-loved uniform shop in school.
If you would like to order a new blazer visit the School Colours Direct website. Please note that you have to make an account before you can view school specific stock.